danced happiness – three stage images for three dance performances
a dance project by jasmin schneider with dancers from the MODERNDANCE SCHOOL,
wolkensteinsaal konstanz in june 2023.
the starting points for the development and selection of the three stage images were a quotation by durs grünbein from his book "the years in the zoo (happiness is when the memory brushes you lightly on the sleep.), the etude op. 25 no. 11 (winter wind) by frédéric chopin and the piece rise by jackson mullane. inspired by my mountain landscapes for the "winter wind" i created two further works from the work segment move for the performances. they are each windows into a landscape, which are magically opened by the dancers – danced happiness.
getanztes glück – drei bühnenbilder für drei tanzperformances
ein tanzprojekt von jasmin schneider mit tänzerinnen und tänzern der MODERNDANCE SCHOOL,
wolkensteinsaal konstanz im juni 2023.
ausgangspunkte für die entwicklung bzw auswahl der drei bühnenbilder waren ein zitat von durs grünbein aus seinem buch "die jahre im zoo" (glück ist, wenn dich die erinnerung gräserleicht an den schläfen streicht.), die etude op. 25 no. 11 (winter wind) von frédéric chopin und das stück rise von jackson mullane. inspiriert von meinen berglandschaften für den "winter wind" habe ich zwei weitere werke aus dem werksegment move für die performances geschaffen. es sind jeweils fenster in eine landschaft, die magisch von den tänzerinnen geöffnet werden – getanztes glück.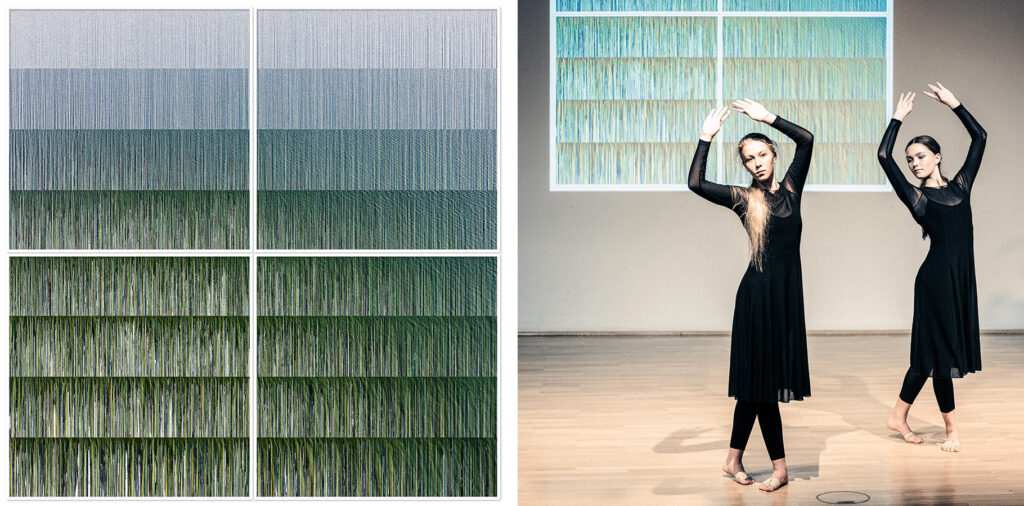 2023-0017 _ 04M2
vierteilig // four-part
je // each 64x64cm – 25,2×25,2inch
gesamt gerahmt // total framed ca 132x132cm
edition of 4
bühnenfoto // stage photo: annette weiske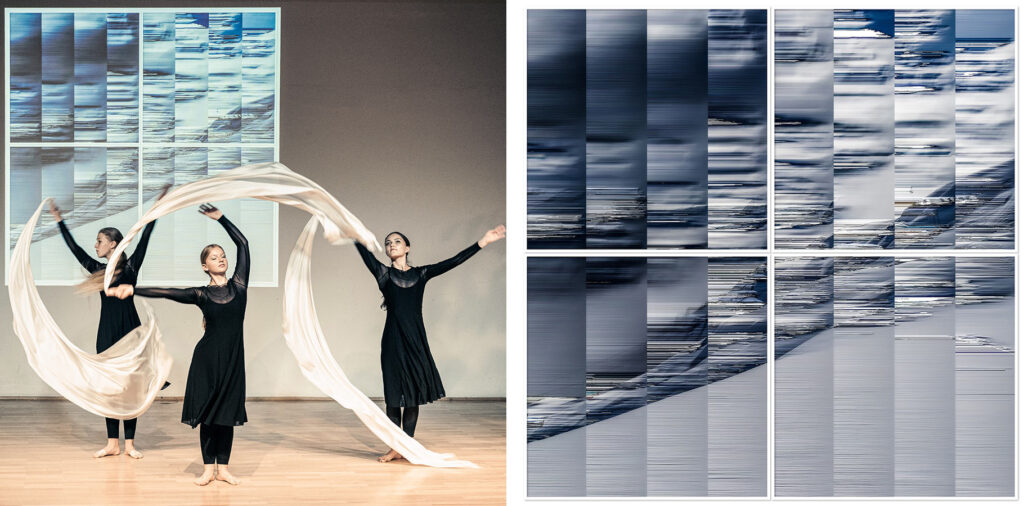 2023-0001 _ 04M2
vierteilig // four-part
je // each 64x64cm – 25,2×25,2inch
gesamt gerahmt // total framed ca 132x132cm
edition of 4
bühnenfoto // stage photo: annette weiske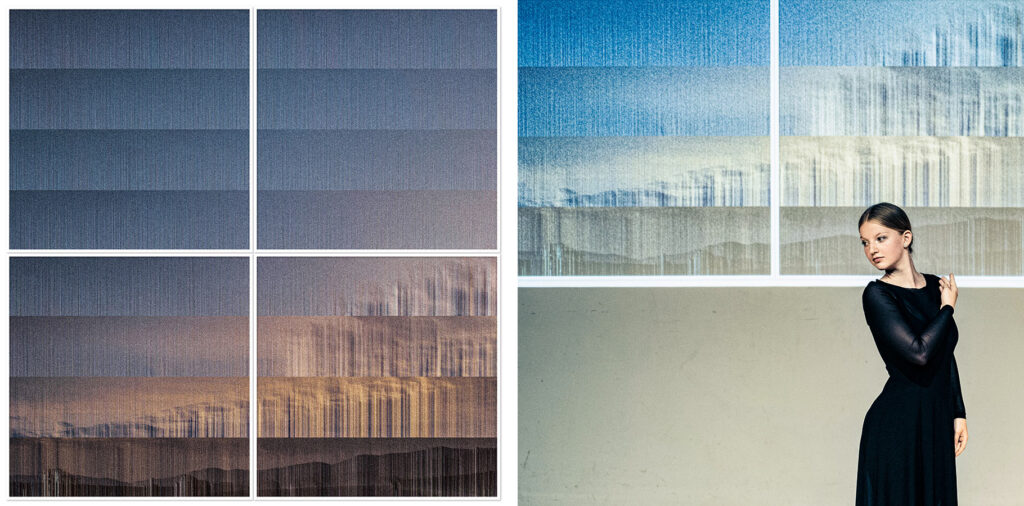 2023-0021 _ 04M2
vierteilig // four-part
je // each 64x64cm – 25,2×25,2inch
gesamt gerahmt // total framed ca 132x132cm
edition of 4
bühnenfoto // stage photo: annette weiske
mehr aus dem werksegment move // more from the work segment move:
>> move – berglandschaften I // mountain landscapes I (2023/05)
>> move – stadtlandschaften I // urban landscapes I (2022/11)
>> move – bühnenraum II // stage space II (2021/11)